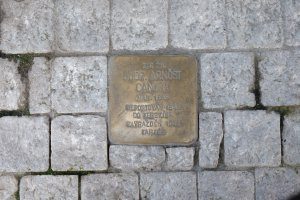 Address: Praha 7, Schnirchova 1085/27, Holešovice, (2012)
Dr. Arnošt Cantor, also Ernst, was born 13 February 1865 in Teplice. His parents were Wilhelm Cantor (1824-?) and Jetty née Kohn (1831-1921). He had seven siblings, including his twin sister Ernestine. He studied law at the Charles University in Prague. He became a lawyer and married Selma née Mandelbaum, born on 21 June 1878. The couple had three children:
Fanny (born on 28 October 1902 in Teplice, married to Max Jaffe)
Lotta (born on 2 April 1904)
Vilém (born on 2 May 1907, married to Greta, two daughters).
From 1914 until the Nazi occupation of the Sudetenland, he served as chairman of the Teplice Jewish community. Thereafter he fled to Prague. He was also a member of the Supreme Council of Jewish Communities of Czechoslovakia and a member of the delegation of the Jewish Party in Czechoslovakia, that intervened in order to protect the rights of Jews in the Sudetenland. His last residence before deportation was in Prague VII, Schnirchova 13. On 2 July 1942, he was deported to Theresienstadt concentration camp by transport AAl. His transport number was 923 of 1,005. Five months later, on 30 November 1942, he died in Theresienstadt.
His daughter Fanny Jaffe was murdered in 1944 in Auschwitz. The fate of his daughter Lotta and of his son Vilém is unknown. His wife died in 1945.
https://www.holocaust.cz/en/database-of-victims/victim/80230-arnost-cantor/