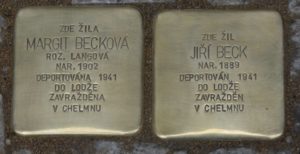 Address: Prague 1, Klimentská 3 (2020)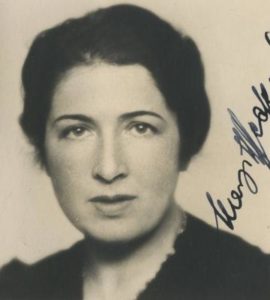 Born 10. 03. 1902
Last residence before deportation: Prague II
Address/place of registration in the Protectorate: Prague II, Klimentská 3
Transport C, no. 466 (26. 10. 1941, Prague -> Łódź)
Murdered
https://www.holocaust.cz/en/database-of-victims/victim/143216-margit-beckova/
Margit Becková, neé Langová was born on 10 March 1902 in Žatec. She studied music at the German Academy of Music and Performing Arts in Prague, Vladislavova Street, where she graduated. Margit made a living as a private piano teacher. On 16 May 1924 she married a bank clerk, Jiří Beck (born on 26 January 1889, Kladno). Since September 1934, Margit Becková came as a volunteer co-worker of Přemysl Pitter to the Milíč-House, where she led singing lessons together with Ferdinand Krch. She taught gifted children playing piano and prepared one of them, Olga Pitráková, for entrance exams at the conservatory and she arranged for her to borrow the piano at home.
Margit Becková also financially supported the Milíč-House, for example in April 1936 she organized a charity performance of children´s opera for the benefit of the Milíč-House and the poor children in the Ore Mountains. Margit Becková also supported her student Olga Pitráková, contributed her for holiday exchange stay in German territory, where she was to learn German language (summer 1937 and 1938).
Margit Becková last visited Milíč-House in mid-September 1941.