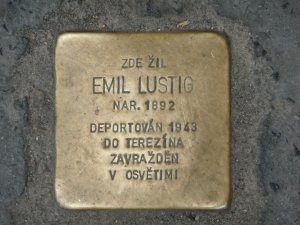 Address: Praha 8, Sokolovská 428/137, Karlín, (2011)
Emil Lustig was born on 11 September 1892. He was the son of Ferdinand Lustig and Louise née Kohn and he had one sister. His father died in 1904, his mother in 1926. He married Terezie née Löwy. The couple had two children: Arnošt (born on 21 December 1926 in Prague) and a daughter, whose name is not known. His last residence before deportation was Prague VIII, Královská 137 (in 1948 the street was renamed Sokolovská). He was deported to Theresienstadt concentration camp with Transport Cy on 9 April 1943. His number on this transport was 129 of 150. From there he was deported to Auschwitz concentration camp with Transport El on 29 September 1944. His number on this transport was 1324 of 1500. Emil Lustig was murdered by the Nazi regime in Auschwitz.
His sister Marta Picková was murdered after being deported from Theresienstadt to Piaski in 1942. His wife and his son could survive the Shoah. Terezie Lusfigová died in 1984, Arnošt Lustig in 2011. The fate of his daughter is not known.
https://www.holocaust.cz/en/database-of-victims/victim/107899-emil-lustig/