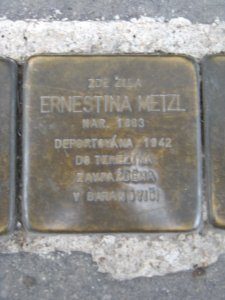 Address: Praha 7, Šternberkova 1357/10, (2011)
Ernestina Metzl was born on 27 October 1883 in Vienna. Her parents were Moritz Metzl and Mathilde née Klein (1857-1896). She had two sisters and two brothers: Gustav (born 1879), Franziska (1881-1883), Fritz (1886-1939) and Ella (born 1888). It is not known when she moved to Prague to live with her brother Gustav and his wife. Her last residence before deportation was in Prague VII, Šternberkova 10. On 2 July 1942, Ernestina Metzl was deported to Theresienstadt concentration camp by transport AAl. Her transport number was 660 of 1,005. Four weeks later, on 28 July 1942, she was deported to Baranovichi by transport AAy. Her transport number was 278 of 1,001. Ernestina Metzl was murdered by the Nazi regime.
Her brother Gustav and her sister-in-law Ida Metzl were murdered after deportation to  Zamość. Her sister Ella and her husband Josef Bermann could emigrate and survive. Josef Bermann died 1949 in New York, Ella Bermann in 1962 also in New York. Also their two sons could survive.
https://www.holocaust.cz/en/database-of-victims/victim/109631-arnostka-metzlova/