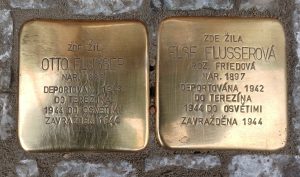 Address: Address: Opletalova 1964/17, Prague 1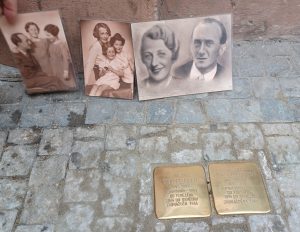 Born 17. 08. 1897
Last residence before deportation: Prague II
Transport Ba, no. 1150 (10. 08. 1942, Prague -> Terezín)
Transport Et, no. 1485 (23. 10. 1944, Terezín -> Auschwitz)
Murdered
On the 13th May 1939, Otto and Else Flusser left their home here on the 2nd floor of 17 Opletalova with their 11-year-old twin daughters, Susie and Liesl, my mother and aunt.
The family made the short journey past the Gestapo headquarters just round the corner and across the park to Wilsonova station as it was then known.  It was here the twins would leave their homeland on a Kindertransport to Britain. At the time the family believed it would be a temporary separation and that Else and Otto would be re-united with their daughters as soon as safe passage could be arranged.
The reality was that this farewell was the final time the parents and children would ever see each other. It is hard to even begin to imagine the couple's feelings on returning home to a flat suddenly devoid of their children's presence yet still surrounded by their belongings, not knowing how or when they would hear from them again.