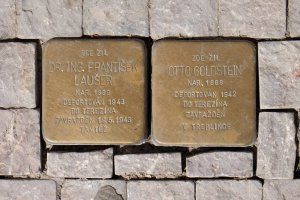 Address: Praha 7, Kostelní 875/6, Holešovice, (2012)
Dr. Ing. František Laušer was born on 17 December 1889 in Horní Ročov. His parents were Josef Lauscher (1858-1912) and Bertha née Wolf (1863-1940). He had two sisters, Marta (born 1883, later Kronberger) and Marie (born 1885, later Jelinek). He was married to Marie Laušer. His last residence before deportation was in Prague II, Hálkova 8. On 6 March 1943 he was deported to Theresienstadt concentration camp by transport Cv. His transport number was 27 of 1,022. He was murdered on 19 May 1943 in Theresienstadt.
The fate of his wife and of his sisters is unknown.
https://www.holocaust.cz/en/database-of-victims/victim/104531-frantisek-lauser/