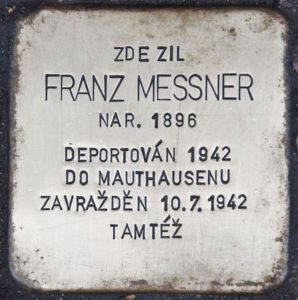 Address: Praha 1, Petrská
Inscription: ZDE ŽIL FRANZ MESSNER, NAR. 1896
DEPORTOVÁN 1942 DO MAUTHAUSENU, ZAVRAŽDĚN 10.7.1942 TAMTÉŽ
Franz Hans Messner was born in Karlsbad, Czechoslovakia in 1896. He was a jurist and married to Ilse nee Klemptner.
Messner Franz was born in 1896, deported in 1942 to Mathausen and murdered in Mathausen 1944.