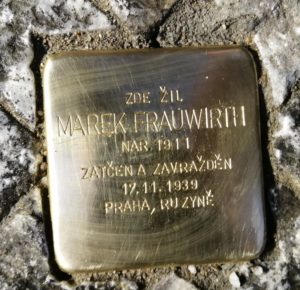 Address: Jilská 9, Prague 1 (November 17 2019)
The University of Economics, Prague commemorates the events of 1939. The Chancellor of the University of Economics, Andrej Tóth took part in a commemorative act on November 15 – the laying a stolperstein – at the house in Prague where one of the nine students executed by the Nazis on November 17, 1939 lived. Marek Frauwirth was a graduate of the University of Business, whose legacy is today acknowledged by VŠE.
In 1939, Marek Frauwirth graduated from the University of Business, where he earned his degree as an engineer. During the holidays in September 1939 he stopped in his native Slovakia. His family persuaded him not to return to Prague, the capital of the Protectorate. Marek Frauwirth however enrolled again at the University of Business, began working on his dissertation and at the same time got a job at the Slovak Consulate in Prague.
With the Consul Pavol Bujnák acknowledgement, Marek Frauwirth under the code name "Ing. Marek" started issuing false passports, among other things to Jews and resistance fighters who needed to get out of the Protectorate (2 216 passports were illegally issued at the Consulate), and at the same time he participated in the distribution of resistance leaflets.On the day of the funeral of student Jan Opletal (15 November 1939), anti-Nazi leaflets were found in Marek Frauwirth backpack and two days later he was arrested by the Gestapo and on the same day executed without trial.
https://cs.wikipedia.org/wiki/Marek_Frauwirth
http://biography.hiu.cas.cz/Personal/index.php/FRAUWIRTH_Marek_8.11.1911-17.11.1939