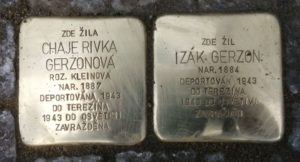 Address: Prague 1, Dlouhá 720/46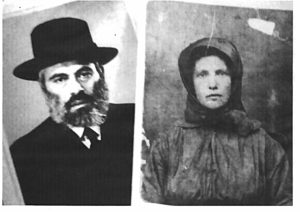 Born 18. 03. 1887
Last residence before deportation: Prague I
Address/place of registration in the Protectorate: Prague I, Dlouhá 46
Transport Cv, no. 402 (06. 03. 1943, Prague -> Terezín)
Transport Dl, no. 599 (06. 09. 1943, Terezín -> Auschwitz)
Murdered
https://www.holocaust.cz/en/database-of-victims/victim/88392-chaje-rifka-gersonova/
Isaac (Izák, also Izák Zelig) Gerzon was born on August 23, 1884 in the town of Sanok (then Austrian Galicia, now Poland) as the son of Shalom Gershon and his wife Gitl (née Schechter). Chaje Rivka (also Regina) Gerzonová was born on March 18, 1887 in Mukachevo (then Hungary, today Ukraine); her father was Hersch-Leib Klein and her mother Rachel (née Ledermann). The wedding of Isaac and Chaje Rivka took place in February 13, 1908 in Mukachevo. The family later moved to Moravská Ostrava (then Czechoslovakia, now Czech Republic), where Isaac worked as a ritual slaughterer, and in 1940 to Prague, where Isaac worked as a circumciser of the Prague Jewish community. On March 6, 1943, they were deported together from Prague to Theresienstadt Ghetto and from there together on September 6, 1943 to the Auschwitz-Birkenau concentration camp. Here, on March 8, 1944, together with other 3,790 fellow prisoners from the so-called "Theresienstadt family camp", they were murdered.
The sons of Isaac and Chaje Rivka managed to escape to safety before the Nazi regime: Jacob went to Palestine in 1933, Shalom in 1938 to Yugoslavia and then also to Palestine, David in 1939 to Great Britain and later also the youngest Armin to Denmark and from there to British Army. Daughters Irén (she lived in Mukachevo, her husband was Nathan Schönfeld) and Chana (she lived in Vrbové, Slovakia, her husband was Eisik Rupp) were together with their husbands and children murdered as a result of the Holocaust. Daughters Berta and Frida were also deported to Theresienstadt and Auschwitz, but both fortunately survived World War II. Berta later moved to Israel and Chile, Frida lived in Prague.
Isaac and Chaje Rivka are remembered by the surviving grandchildren Bracha Manistersky and Hana Amit (Israel), Nahum Gershon (Maryland, USA), Duňa Slavíková (Vienna, Austria), as well as Václav, František and Antonín Kostlán (Prague), and also by a large number of their great-grandchildren.