Address: PLAVECKÁ 8, PRAGUE 2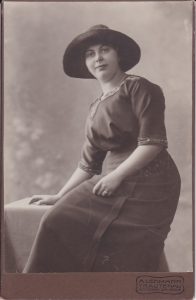 Born 10. 08. 1893
Last residence before deportation: Prague XV
Address/place of registration in the Protectorate: Prague XV, Branická 19
Transport Au, no. 244 (12. 05. 1942, Prague -> Terezín)
Transport Ay, no. 987 (17. 05. 1942, Terezín -> Lublin)
Murdered
Born Else Glück, 10 August 1893 in Česká Skalice,
Married Hugo Katz 28 June 1914 in Trautenau  / Trutnov
Deported to Terezín 12 May 1942, to Lublin 17 May 1942
Murdered  – place  and  date unknown.
Else Katz, commemorated here as Elsa Katzova, was born on 10 August 1893, the daughter of Julius Glück, a station-master on the Imperial Austrian railways and Jenny Blüh. The Glück family roots are in Lipnik in Moravia, The Blüh family includes distinguished rabbinical scholars. Both families can be traced to the late 17th century, a reminder of the heritage  extinguished by the Holocaust.
Else married Hugo Katz, whose family had owned a shop in Trautenau since the late nineteenth century, on 28 June 1914. Surviving correspondence, mainly in the form of secret messages concealed beneath postage stamps on cards they sent each other, reveals how deeply they were in love.
Their only child, Helene, Helena, Helly, Helen, was born on 22 June 1916.
From Helly's account we know that Else was a devoted mother and a talented amateur musician and like Hugo, a music lover. Her recipe books indicate that she was also an accomplished cook.
On 8 July 1934 Hugo Katz took his own life.
In 1935 the widowed Else, aged 42, moved to Prague with her daughter. Her last address was Branická 19, not far from here but she must have been a frequent visitor to her daughter and her husband, who had moved to their own flat here at Plavecká 8. On 12 May 1942 she was deported to Terezin as prisoner Au 244. A few days later, on 17 May, she was included in Transport Ay from Terezin to Lublin. After that all trace is lost. She was murdered, it is assumed in Sobibor. She was 48. There is no known resting place for Else Katz. Today, at last, there is a modest stone to mark her short life.