Address: Na Zátorce 20, Prague 6 (2019)
Born 17. 01. 1878
Last residence before deportation: Prague V
Address/place of registration in the Protectorate: Prague V, Norimberská 32
Transport C, no. 192 (26. 10. 1941, Prague -> Łódź)
Murdered 08. 05. 1943 Łódź
https://www.holocaust.cz/en/database-of-victims/victim/143672-artur-melichar/
On 2 May, we had the honour of laying down two «Stolpersteine» — stumbling stones — in memory of Ema and Artur Melichar, who were murdered during the Holocaust. The Jewish couple built and owned what is today the Norwegian Ambassador's official residence Bubeneč, Prague 6.
The Melichars lived in their magnificent villa until 1940; a year later they were deported to the Lódž Ghetto and later murdered.
The memory of Ema and Artur Melichar will not be forgotten.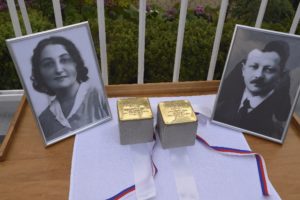 In August 1940, the Melichars were forced to hand over their villa to the Auswanderungsfond für Böhmen und Mähren (Emigration Fund for Bohemia and Moravia). The fund was created six months earlier to give a cloak of
legitimacy to the Nazi theft of Jewish property. Ema and Artur had to move into a flat in an apartment building and were told they would receive compensation for the villa once they had obtained their emigration permits.
This was a hideous scam. In October 1941, the couple were deported to the Lodz ghetto in one of the first transports to leave Bohemia. According to his prisoner file at the Lodz ghetto, Artur died of heart failure on 8 May of the following year.