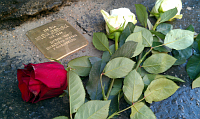 Address: Praha 3, Kouřimská 6,
Inscription: ZDE ŽILA MILENA JESENSKÁ, NAR. 1898
ZATČENA 1939, ZAVRAŽDĚNA 17.5.1944 V RAVENSBRÜCKU
After the occupation of Czechoslovakia by the German army, Jesenská joined an underground resistance movement and helped many Jewish and political refugees to emigrate. She herself decided to stay, however, despite the consequences. In November 1939 she was arrested by the Gestapo and imprisoned first in Prague's Pankrác and later in Dresden. In October 1940 she was deported to a concentration camp in Ravensbrück in Germany. Muredered 17.5.1944.