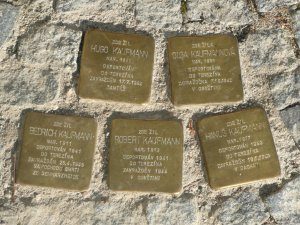 Address: Praha 4, Lopatecká 161/17, Podolí, (2011)
Olga Kaufmannová née Ehrmann was born on 14 February 1886 in Osek, Písek District. She was the daughter of Sigmund or Zigmund Ehrmann (1854-1935) and Julia née Kafka, also Julie or Yulia (1854-1939). She had two brothers and three sisters: Martha (later named Weiskopf, 1884-1942), Fanny (later named Klein, 1888-1943), Rudolf (1891-1983), Jindra (1895-1975) and Ida (later named Bergman, dates of birth and death unknown). She married Hugo Kaufmann. The couple had at least three sons, Bedřich (born 1911), Robert (born 1913) and Hanuš (born 1917). It is not known how and when she arrived at Auschwitz concentration camp. But she is listed in the Auschwitz Death Registers. She lost her life on 7 October 1942 in Auschwitz.
Her husband and all three sons were murdered in the course of the Shoah. Her sister Martha, then a widow, was sent to Maly Trostenets extermination camp and killed there. Most probably also her sister Fanny was killed by the Nazi regime. Her brothers could survive. Jindra died 1975 in an unknown location, Rudolf 1983 in Kiryat Bialik, Haifa.