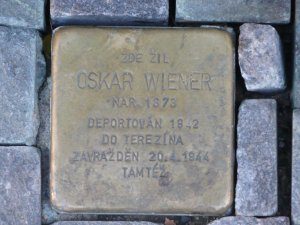 Address: Praha 8, Sokolovská 75/103, Karlín, (2011)
Oskar Wiener was born on 4 March 1873 in Prague. His parents were Ignaz Wiener (died on 18 November 1908) and Emma née Wien (born 1846, died on 20 February 1908). He had a brother, named Paul. His last residence before deportation was in Prague X, Královská 103. On 6 July 1942, he was arrested and deported to Theresienstadt concentration camp by transport AAn. His transport number was 403 of 1,000. There he lost his life on 20 April 1944.
The fate of his brother is unknown.
https://www.holocaust.cz/en/database-of-victims/victim/134402-oskar-wiener/