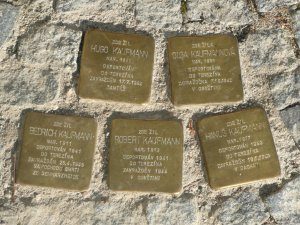 Address: Praha 4, Lopatecká 161/17, Podolí, (2011)
Robert Kaufmann was born 1913. He was the son of Hugo Kaufmann and Olga née Ehrmann. He had two brothers, Bedřich (born 1911) and Hanuš (born 1917). He was an industrialist and married. His last residence before deportation was in Prague XII, Lucemburská 16. On 4 December 1941 he was deported from Prague to Theresienstadt concentration camp by transport J. His number on this transport was 745 of 1,000. On 19 October 1943 he was deported to Auschwitz concentration camp by transport Es. His number on this transport was 1163 of 1,500. He lost his life there.
Also his parents and his brothers were killed in the course of the Shoah.
https://www.holocaust.cz/en/database-of-victims/victim/98085-robert-kaufmann/