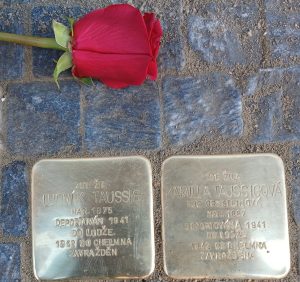 Address: VELETRŽNÍ 196/17, PRAGUE 7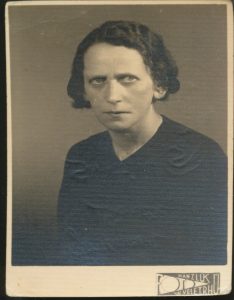 Born 15. 05. 1887
Last residence before deportation: Prague XIII
Address/place of registration in the Protectorate: Prague
Transport D, no. 916 (31. 10. 1941, Prague -> Łódź)
Murdered
Born in Prague on  the 15th May 1887, she was the second child of Friedrich or Bedřich  Ornstein and Flora Ornsteinová (rozená Engelová). Bedřich had been born in 1857 in Hranitz, Central Bohemia. Flora was born in 1863 in Roudnice nad Labem.
With her husband, Ludvik,  she was deported on the 31st October 1941  to the Łódź Ghetto in Poland and then  on the  13th May 1942 to the Chelmo  extermination camp.
Her daughter Elly, son-in-law František and grandson, Ivan, were first deported from Prague to Terezín in December 1941 and in March 1942 forced on Transport Aa to the Izbica Ghetto in Poland.  Her surviving son, Leo, left Prague in October 1939 and reached Palestine in February 1940. He later was enlisted in the Czechoslovak Army East in Jerusalem and  reached  England  with the  same army in August 1943.
Her younger sister, Štěpánka, was deported with her husband Gustav on transport AY of the 17th May 1942 from Terezín to the Lublin region of Poland.   Their final destination before perishing is  not known.
Her elder sister, Anne, was deported from Terezín on transport BY18 of the 26th October 1942 to Auschwitz. Her husband, Jaroslav, had died in Terezín on the 18th October 1942.