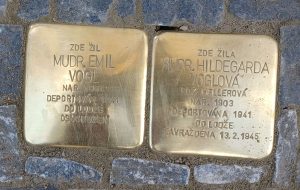 Address: MÁNESOVA 1374/53, PRAGUE 2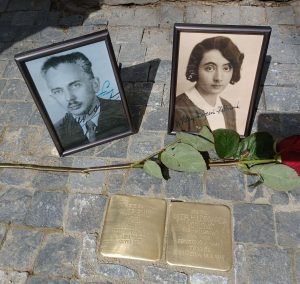 Born 31. 01. 1903
Last residence before deportation: Prague XII
Address/place of registration in the Protectorate:
Prague XII, Mánesova 53
Transport D, no. 910 (31. 10. 1941, Prague -> Łódź)
Murdered 13. 02. 1945 Dresden-Bernsdorf
Hildegarda Voglová, neé Hellerová, was born on 31 January 1903 in the Jewish German family of Arnošt and Klára Heller. She had an older brother František. Her father was a merchant, he owned a company producing advertising items, celluloid posters and other goods. The family was well off financially, among other things they could afford to travel to Europe every year. Hildegard graduated from the German Gymnasium and the Faculty of Medicine of the German University in Prague and in 1928 was graduated as a doctor. After graduation she practised at the clinic of the 2nd Medical Faculty of the German University. In 1929, she married her long-time friend and classmate from the Faculty of Medicine, Emil Vogl, M.D., at the Old Town Hall in Prague and opened her own radiology practice in 1930. She and her husband, who practiced internal medicine, first had their offices in Štěpánská Street, and from 1935 in Lützowova Street (today Opletalova).
In addition to their joint employment, they shared an interest in woodcraft and activities in the Forest Wisdom League (Liga lesní moudrosti), where they led clubs for German Jewish youth. Their favourite place to go camping was Samechov.
In 1940, Jews were forbidden to practice medicine. In October 1941, Hildegard and Emil Vogl, together with Hilda's mother Klara, were deported on transport D from Prague to Lodz. Hilda's father died before the war in 1938. Klara Heller was murdered by the Nazis in Chelmno in 1942. Emil worked as a doctor and Hildegarde worked in a metal factory until the liquidation of the Lodz ghetto in 1944, when they were both deported to Auschwitz and separated. Hildegard also went through the concentration camps Stutthof, Bernsdorf and Zwodau (Flossenbürg). The last place, where she worked, was the Dresden metal factory on Schandauer Street. She died in the bombing of Dresden on 13 February 1945.