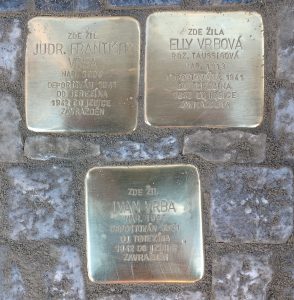 Address: VELETRŽNÍ 196/17, PRAGUE 7
Born 13. 10. 1936
Last residence before deportation: Prague XIII
Address/place of registration in the Protectorate: Prague XIII, tř. Krále Jiřího 23
Transport N, no. 329 (17. 12. 1941, Prague -> Terezín)
Transport Aa, no. 60 (11. 03. 1942, Terezín -> Izbica)
Murdered
He was born to Elly Vrbová (rozená Taussigová) and František Vrba on the 13th October 1936. He was the first  grandchild for Ludvik and Kamilla Taussig.
His uncle, Leo Taussig's recall, was of a happy and intelligent child, the former borne out by photographs of him as a three and four-year old.
With his parents he was deported from Prague to Terezín on the 17th December 1941. On the 11th March 1942, along with his parents he was forced on Transport Aa from Terezín to the Izbica Ghetto in south east Poland.
If he was still alive  when the train reached Izbica, he may have perished in the inhospitable conditions in the ghetto, or in the nearby and open railhead collection point or at the Belzec extermination camp. Or, if he and his parents formed a part of the five hundred Jews marched  on the 18th March 1942 to the settlement of Kraśniczyn, he may have perished in the Sobibor or Majdanek or Belzec extermination camps in March or April 1942.