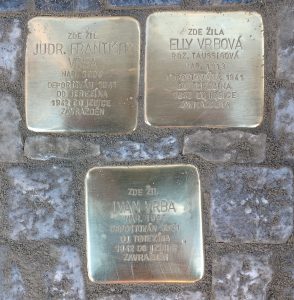 Address: VELETRŽNÍ 196/17, PRAGUE 7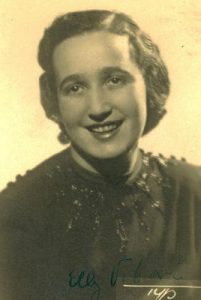 Born 11. 04. 1913
Last residence before deportation: Prague XIII
Address/place of registration in the Protectorate: Prague XII, nám. Krále Jiřího 23
Transport N, no. 328 (17. 12. 1941, Prague -> Terezín)
Transport Aa, no. 59 (11. 03. 1942, Terezín -> Izbica)
Murdered
She was born on the 11th April 1913 in Prague  to Ludvik Taussig and Kamilla Taussigová (rozená Ornsteinová). Both her parents had been born in Prague in 1875 and 1887 respectively.
Her elder brother, Leo, was born in 1909, and her younger brother, Jiří, in 1924.
She trained and qualified as a speech therapist. On  the 17th February 1935 she married František Vrba, a lawyer.  Their only child, Ivan, was born on  the  13th October 1936.
Together with her husband and son she was deported from Prague to Terezín on the 17th December 1941. Almost three months later, on the 11th  March 1942, all three were forced on to  transport Aa, the first to go from Terezín to  the Lublin region of Poland and specifically to the Izbica Ghetto.
If she survived the two-day  transport to the  Izbica Ghetto  there are several scenarios as to where and when she lost her life. Possibly  within the ghetto itself given the ghastly conditions there or at the open collection point at the nearby railhead  or a few weeks later at the Belzec  extermination camp.  If she were one of the five hundred Jews on Transport Aa that were marched on the 18th March  1942 to the settlement of  Kraśniczyn she could have perished in one of Sobibor, Majdanek or Belzec extermination camps in the months ahead.
An indication that she may well have seen foreseen  difficult times ahead following the Nazi occupation of Prague in March 1939 are the photo albums now in her descendants possession. It is quite likely she gave these to a non-Jewish friend in c.1940 for safe keeping for the future.
Her parents, Ludvik and Kamilla, following deportation in October 1941 from Prague to the Łódź Ghetto in Poland, lost their lives at the Chelmno extermination camp in May 1942. Her brother, Leo, reached Palestine as an illegal Jewish immigrant in February 1940, and served in the Czechoslovak Army in the Middle East, North Africa and England.